August 2007
PHOTOS OF MR. ADNAN OKTAR >>
---
1 MR. ADNAN OKTAR'S LIFE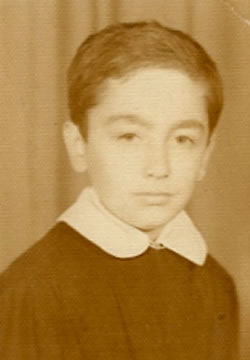 Adnan Oktar
Born in Ankara in 1956, Adnan Oktar writes his books under the pen name of Harun Yahya. He is a world-renowned man of ideas. He has dedicated his life to telling of the existence and oneness of Almighty Allah, to disseminating the moral values of the Qur'an, to the intellectual defeat of materialist and atheist ideologies, to propagating the real Ataturk way and to defending the permanence of the state and the unity of the nation.
Mr. Adnan Oktar lived in Ankara until he finished high school. His attachment to the morality of Islam grew stronger during his high school years. During this period, he read almost all the works of the Islamic scholars and had an in-depth knowledge about Islam. Again, during these years he decided to speak about the morality of Islam to all people and call them to the truth.
To continue his education, he entered Istanbul's Mimar Sinan University in 1979 coming in third from among thousands of candidates. Mr. Oktar, a talented artist since childhood who regards art as a manifestation of Allah's superior creation, painted surrealist pictures from time to time and gave away a large number of paintings as gifts to friends. In addition, Mr. Oktar numbers animals, plants and flowers among his spheres of interest, as well as horticulture, interior design, and décor.
The forefathers of Adnan Oktar immigrated to Caucasia during the Hulagu sedition, and during the Ottoman-Russian wars and Russian-Caucasian wars, they took refuge in the Ottoman lands and settled in the Bala province of Ankara.
---
2 THE MIMAR SINAN UNIVERSITY YEARS
When Adnan Oktar entered Mimar Sinan University, it was under the influence of various illegal Marxist-communist organizations. Aggressive atheist and materialist trends predominated among students as well as the academic staff. Indeed, some members of the teaching staff would seize every opportunity to propagandize on behalf of materialist philosophy and Darwinism, even though these subjects had nothing to do with the curriculum.
This environment accorded religion and moral values no respect, and rejected them almost entirely. The materialist view predominated. But Adnan Oktar began telling those around him of the invalidity of Darwinism, of the existence and oneness of Allah, and was the only person who prayed openly in the Molla Mosque, adjacent to the university.
At night—as his mother, Mediha Oktar, relates—Adnan Oktar would sleep only a few hours and spend the rest of his time reading, taking notes and writing. He read hundreds of works including those dealing with Marxism, Leninism, Maoism, communism and materialist philosophy, and carried out detailed studies of the classics as well as more seldom-read texts. He also performed wide-ranging research into the theory of evolution—the alleged scientific foundation of these ideologies. Mr. Oktar collected considerable quantities of documents and detailed information revealing the increasing dilemmas faced by these superstitious philosophies—their quandaries, contradictions and falsehoods, all based on a denial of Allah—and used his accumulated knowledge to invite people to reality and truth. He spoke to everyone, university students and staff alike, about the existence and oneness of Allah and the moral values of the Qur'an. In conversations at the university canteen, and in breaks between classes, he outlined the deceptions of materialism and Darwinism, citing direct quotations from these ideologies' original texts. These cultural activities of Mr. Oktar's had a great impact, and positive changes took place in the ideological thinking and beliefs of a great many people, including some members of the academic staff.
Adnan Oktar attached special importance to refuting the theory of evolution. That was because he saw that ever since Darwinism's first appearance, it had been subsumed by materialism and atheism. Aware that today, those same circles are still defending Darwinism and striving to keep it alive for ideological reasons, Adnan Oktar believes that eradicating Darwinism will hand those movements a major defeat.
---
3 THE FIRST PAMPHLET TO DEAL DARWINISM A BODY BLOW
To that end, Adnan Oktar concentrated on proving the invalidity of this deception that for more than a century had turned people away from religious moral values. He realized that since Darwinism advanced itself in the name of science, the most effective means of revealing its true face was through science itself. Based on that viewpoint, he brought out a pamphlet entitled The Theory of Evolution, a summary of his wide-ranging research and study, and personally bore all the printing costs by selling property inherited from his family, and distributed the pamphlet free of charge to other university students.
Using an accessible and comprehensible style, this pamphlet demonstrated that evolution was a deception, with no scientific validity. Many people who read the pamphlet and spoke with Adnan Oktar came to agree that no living thing could come into being by chance, and that Almighty Allah created the universe and all living things in it.
Nonetheless some students in the university, blindly devoted to materialist thought, continued in denial, despite having seen the clear truth. Some militant students openly threatened Oktar, saying his life would be in danger unless he ceased his activities. Yet this only increased Oktar's determination and devotion to Allah. The harsh reactions and alarm evinced by materialist circles were significant proof that he was on the right path.
In a university in which terror ruled, dominated by atheist and materialist movements, devout individuals were harassed for their beliefs. During those years, while many young people in Turkey were ruthlessly slaughtered because of ideological tensions, Adnan Oktar openly preached the existence and oneness of Allah and of the truth of the Qur'an. In a university where no one had the courage to state his beliefs openly, he continued to pray regularly at the mosque, unwavering in the face of reactions and threats.
---
4 SPREADING RELIGIOUS MORAL VALUES AT MIMAR SINAN UNIVERSITY
When Adnan Oktar began communicating Islamic values, he was quite alone. For more than three years nobody at Mimar Sinan University backed up his views, yet that did not alter his determination. Knowing that Allah was his only friend, he did all these things solely to gain His approval.
He devoted all his time, energy and means to a single purpose: earning the good pleasure, mercy and Paradise of Allah, and telling all mankind about religious moral values.
In 1982, the first few students at Mimar Sinan University decided to align themselves with Adnan Oktar in his intellectual struggle. As months passed, the numbers of people adopting these ideas rose. Adnan Oktar held conversations with these young people on love of country; the importance of following in the great leader Ataturk's path; the proofs of Creation; the exemplary moral values of our Prophet (saas); the moral values revealed in the Qur'an by our Lord; and the invalidity of materialism, atheism and Darwinism. From this time onward, Adnan Oktar was a vehicle by which many people came to believe and live by the moral values of religion.
---
5 THE FIRST SMEAR CAMPAIGN AND TORTURE IN A MENTAL HOSPITAL
His intellectual activities opposing materialism and atheism began to elicit reactions from wider circles. Certain groups, alarmed by Adnan Oktar's nationalist and religious activities, set up a major conspiracy against him. Their plot coincided with the publication of his work Judaism and Freemasonry, which provoked an enormous response.
In the summer of 1986, Adnan Oktar was arrested, with no rightful legal ground whatsoever, for having stated, "I am a member of the Turkish People, and of the Nation of Ibrahim," in an interview carried by a newspaper. Again under the influence of the circles mentioned above, deceitful reports, groundless information and slanders about him began appearing in various publications.
Adnan Oktar was first arrested and imprisoned. He was confined in a one-man cell for nine months. He was then chained by the foot to a bed in the Forensic Medicine Department for 40 days. He was then transferred to the Bakirkoy Mental Hospital on the grounds of being mentally unhealthy and placed under observation in ward 14A, poorly maintained, filthy, and used to house the most dangerous inmates. Ward 14A, which housed 300 mental patients, was in a stone building left over from the reign of Sultan Abdul Hamid and could be entered only by passing through a number of locked iron doors, since killings among patients were viewed as nothing out of the ordinary. During Mr. Oktar's time there, seven murders were committed.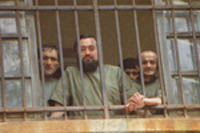 In the summer of 1986, Adnan Oktar was arrested, with no rightful legal ground whatsoever, for having stated, "I am a member of the Turkish People, and of the Nation of Ibrahim," in an interview carried by a newspaper.
In addition, he was forcibly given drugs blurring consciousness. Those who managed to visit him witnessed that he had lost none of his determination and enthusiasm at this time. Postgraduate students, nurses and even doctors were prohibited from seeing him, out of concerns that he would turn them to Islamic moral values. Shortly afterwards, his relatives and friends were also banned from visiting him, and even telephone calls were forbidden. He was threatened with spending the rest of his life in the hospital unless he abandoned his intellectual activities. Certain circles strongly suggested that if he ceased publication of Judaism and Freemasonry, he could immediately be released from hospital and spend the rest of his life in comfort. Financial incentives were also offered if he would hand over all the book's research materials. But he rejected all these offers, refusing to bow to the threats and pressure that only enhanced his determination.
After Oktar had been detained for 19 months, the Prosecutor's Office determined there was "no offence in the statements uttered." He was declared innocent and released.

The report issued by the Gulhane Military Medical Academy (GATA) confirming Adnan Oktar's SANITY, however, was never once mentioned by the press. After being depicted as mentally ill for 20 years, a Military Hospital report confirmed that he was completely sane.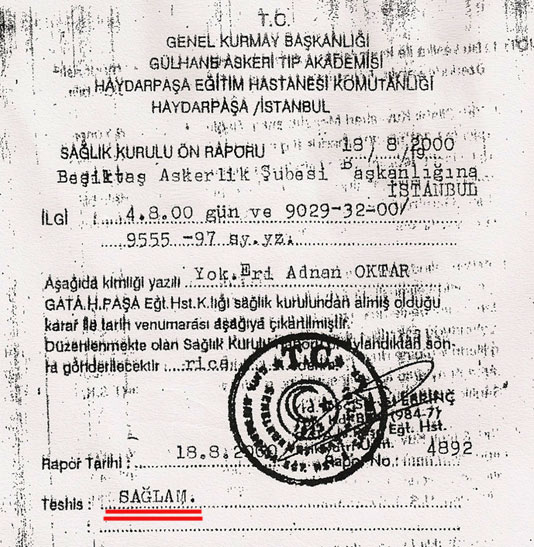 The report issued by the Gulhane Military Medical Academy (GATA) confirming Adnan Oktar's SANITY
During this period, Mr. Oktar continued his work on revealing that Darwinism is a terrible deception. In 1986 he collected all his research on Darwinism's true face in the book Living Things and Evolution, which for many years, was used as the sole reference showing the scientific invalidity of the theory of evolution.
---
6 COCAINE CONPIRACY
Again in mid-1991, certain circles made uneasy by his cultural activities made him the target of a conspiracy. At the time, he was preparing a most important manuscript on the history of Freemasonry and world-wide Masonic organizations. Police, searching the home he shared with his mother in Istanbul's Ortakoy district, discovered a packet of cocaine in the very first book they opened-in a library of some 2,000 books!
Adnan Oktar was immediately detained in Izmir where he was together with a few friends, then transferred to the Istanbul Security Directorate, and after 72 hours, was sent to the Forensic Medicine Institution for drug testing. It was announced that Adnan Oktar's blood showed a high level of a cocaine by-product.
However, all the evidence submitted later showed that this was nothing more than slander; and that the cocaine allegedly found in Adnan Oktar's library was part of this conspiracy. Shortly before the arrest, he had felt that secret moves against him were afoot. Leaving his home in Ortakoy he called his mother Mediha Oktar to warn her of a likely plot against him and asked her to clean and search his house with a few other people as witnesses. His mother called her neighbor and janitor, and together they cleaned her son's home from top to bottom, dusting all the books in his library. Although Adnan Oktar did not return after that cleaning, 16 police officers carrying out the search operation "found" a packet of cocaine among his books as soon as they entered the house. The neighbor and janitor later made a sworn statement, saying jointly that "We cleaned Adnan Oktar's library together, and there was no such packet there."
The second phase of the conspiracy-the cocaine by-product in Adnan Oktar's blood-was refuted by scientific and forensic evidence. Adnan Oktar was kept in the Security Headquarters for 72 hours before the analyses was performed. Scientifically, however, it can be calculated how much cocaine a man has taken and how many hours before by measuring the cocaine by-product in his blood. In Adnan Oktar's blood, that level was so high that had he taken that much cocaine 72 hours before, it would have killed him. This showed that the cocaine had entered his body much sooner, by being mixed with his food while he was in detention.
This was confirmed by some 30 international forensic medicine institutions, including Scotland Yard. To the file sent to them for examination, all gave a common response: The cocaine had been administered while Adnan Oktar was in detention by being mixed with his food.
Subsequently, the Turkish Forensic Medicine Institution confirmed that the incident was a conspiracy, that the cocaine had been administered during the detention period, and Adnan Oktar was cleared by the court and released.
However, this incident revealed that forces hostile to Adnan Oktar intended to employ all kinds of dirty tricks. These forces, who previously sought to intimidate Adnan Oktar with prison and oppression, were now conspiring against him.
You can see the originals of some of the reports issued by health institutions proving that the cocaine entered Adnan Oktar's body less than 72 hours before, in other words, while he was under detention.

The cocaine conspiracy hatched against Mr. Adnan Oktar was annulled by the verdict of the court: Mr. Oktar was ACQUITTED by the Penal Court of First Instance, Number 10 on 22.2.1994. Thus it was also confirmed by the legal authorities that the entire incident had been fabricated.
---
7 COURT RECORD CERTIFYING THAT MR. ADNAN OKTAR WAS ABSOLVED OF ALL CHARGES BROUGHT AGAINST HIM
There have been countless conspiracies, plots and slanders as well as illegal attempts against Mr. Adnan Oktar over the decades. However, his innocence has been proven each and every time while the charges against him were shown by the courts to be baseless. As a result, Mr. Adnan Oktar has been cleared of all charges brought against him, has a completely clean criminal record and doesn't even have so much as a traffic ticket. His clean criminal record is proof that all the defamatory allegations against him were entirely baseless and wholly unfounded.

Court record certifying that Mr. Adnan Oktar was cleared of all charges against him and that his criminal record is completely clean
---
8 ADNAN OKTAR'S WORK OF HIS BOOKS
After 1991 Adnan Oktar dedicated all his time to writing and spent all his time at home.
Under the pen name of Harun Yahya, he has written hundreds of valuable books. Those that presented scientific refutations of Darwinism provoked particularly strong reactions in the scientific world. The 22 April 2000 issue of New Scientist called Mr. Oktar an "international hero" for communicating the fact of creation over the fallacy of evolution. The author's intellectual struggle against materialism and Darwinism has often been mentioned in such mainly evolutionist publications as National Geographic, Science, New Scientist and NSCE Reports. The English and German editions of National Geographic's November, 2004 issue referred to his works concerning the fact of creation, and included the following quotation from The Evolution Deceit: "The theory of evolution is nothing but a deception imposed on us by the dominators of the world system."
Adnan Oktar's works have been translated into many languages, including English, French, German, Italian, Spanish, Portuguese, Urdu, Chinese, Arabic, Albanian, Russian, Serbo-Croat, Uigur, Indonesian, Azeri, Bengali, Bulgarian, Danish, Polish and Malay, and enjoy a world-wide readership in a great many countries, from India to America, Great Britain to Indonesia, from Poland to Bosnia, Spain and Brazil.
Through these books, a great many people have come to appreciate and to grow more deeply in their faith. Everyone who reads and studies his work is affected by this profound difference and benefits from his sincere, wise and easily accessible style. Each book is characterized by proven, definitive facts presented with honest clarity, which nobody can refute-features that doubtlessly stem from a striking wisdom vouchsafed by Allah.
---
9 MR. ADNAN OKTAR'S GIANT WORK THAT DEMOLISHED DARWINISM: ATLAS OF CREATION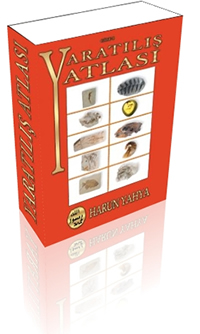 Mr. Adnan Oktar's most influential book against Darwinism has been the Atlas of Creation. This giant work that includes the pictures of hundreds of fossil samples have documented that living beings have not evolved but remained the same for millions of years. These documents have stirred up a great shock in the Darwinist circles. Especially following the fact that the book has outreached many European countries, a Darwinist panic was experienced. The Atlas of Creation that reveals that Darwinism has no scientific grounds with solid findings have had great repurcussions in many countries such as America, China, Brazil, Holland, Belgium, England, Italy, Sweeden, Switzerland, Spain and Denmark. Innumerable newsreports, columns, television programs, Internet websites displayed the ideological impact of the book.
French being the foremost, European Darwinists have expereinced a cultural shock. In the face of the blow Darwinism - which has become instrumental in the spread of irreligion for the last 150 years- has received, the European materialists have been alarmed at the utmost level. The European Convention convened, reports were issued. The ministries of Education issued declarations. European Darwinists were unable to give any ideological response to Atlas of Creation and they, in their own mind, tried to find solutions to get rid away from the book. Indeed they immediately abandoned their liberal traditions they had been advocating for centuries and embraced a prohibitive and repressive identity. Indeed, they even attempted to ban the book. However these effort were futile, for Europe had already started to be enlightened!
The prominent newspapers and magazines of France covered the news of the Atlas of Creation with dreadful expressions. Le Figaro, L'Express, Le Monde and La Croix covered the issue with headlines expressing horror and panic such as "earthquake", "raid", "impact of a bomb". They expressed the defeat and devestation of Darwinism with statements such as, "The greatest defeat in French history." This magnificient work caused an "ideological earthquake" in Europe among those circles who blindly advocate Darwin's theory.
The blow dealt by the Atlas of Creation on Darwinism is covered by the world press
France, Science & Vie Science Magazine,
"Atlas, made the impact of a cold shower…"
France, Le Point
"Save Darwin!"
Fransa, La Liberation
"(Atlas of Creation) stirred up a whole panic in a single move. "
Germany, Stern Magazine,
"A book like a clap of thunder."
Belgium, A Voix Autre Newspaper,
"Creationist literature has never been so powerful."
Holland, Radio Netherlands Internet Site
the Atlas of Creation has stirred up a "deluge" in all of Europe.
Italy, Corriera Della Serra Newspaper
… we do know for certain that we will be the losers…"
Italy, La Stampa Newspaper,
"Goodbye Darwin"
The Atlas of Creation initiated a real enlightenment in Europe. The European nations who had remained under the pressure of Darwinist and materialist movements for around one and half centuries have started to realize that the theory of evolution has no scientific value and that it is kept on the agenda for purely ideological concerns. The surveys conducted in various countries revealed that there is a significant decrease in the number of people believing in Darwinism. For instance, in a survey by Science Actualité, the percentage of people who believe that human beings have not evolved is 92 percent, whereas the rate of people believing in evolution is 5 percent. The survey by the German newspaper Süddedeutsche Zeitung revealed that the rate of people believing that human beings are a work of a Creator is 85 percent, while those believing in the validity of the theory of evolution is 9 percent. Meanwhile, 86 percent of people answered the question , "How do you think life evolved?" in the survey of Die Welt newspaper answered, "God created." Another survey that disclosed the ideological change in Europe was the Switzerland Blick's survey. In this survey, the rate of people believing in Creation was 85 percent, while the believers of the theory of evolution was 8 percent. The De Morgen Gazzette published in Belgium wrote, "Eight out of ten people think that the theory of evolution is nonsense." Extra Bladet Gazzette in Denmark conducted a survey and asked the question, "Do you think human beings descended from apes?" 88 percent of the Danish people answered this question, "No." In a news report that appeared in Swiss Factum magazine, it is stated that the Swiss people also wanted Creation to be included in curriculums. The surveys conducted of teachers in England revealed that teachers think that Creation must also be taught in schools. The Guardian and the Independent gave wide coverage to this report. What is most striking in all these reports is that Europeans expressed that it is the Atlas of Creation that became instrumental in this change. Indeed, in the last months of the year 2008, the Vatican declared that they thanked Muslims because they "reintroduced faith in God to Europe."
This great ideological awekening that the Atlas of Creation started became instrumental and also had its impact on European leaders and statesmen. Tony Blair's statements about his interest in religion, Sarkozy's words about his faith in God exemplify the positive changes that occurred in the European leaders.
Following the outreach of the Atlas of Creation to Europe, the examples of ideological change in European leaders:
Nicholas Sarkozy: "In every individual's thoughts and heart there is the Almighty God. It is God Who constantly conveys the message of humility, love, peace, brotherhood, tolerance and respect. In the face of man's unmeasured arrogance and insanity, it is God that remains as a city wall. It is God Who does not captivate man, but sets him free."
Tony Blair: "Save religion and help it become a force for good."
Tony Blair: Mr. Blair called for religious faith to be rescued from extremism and put at the centre of solving the world's problems. Religion could awaken the world's conscience and help achieve the millennium development goals of eradicating poverty and hunger.
In order to see the extraordinary worldwide impact the Atlas of Creation has made, please refer to:
---
10 MR. ADNAN OKTAR AGAIN ENCOUNTERS OPPRESSION
Various circles grew alarmed at all of his selfless activity. Unable to rebut Adnan Oktar's works on an intellectual level, materialist and atheistic Masonic circles incited a slander campaign to prevent any scientific work that might undermine the theory of evolution, aiming, in their own eyes, to neutralize it through slander and imputation.
In November 1999, exactly when reports were circulating that his three-volume work Global Freemasonry, was about to be published, Adnan Oktar came under renewed pressure. The forces that had sought to hinder the spread of religious moral values with smears, plots, false reports and accusations ever since Adnan Oktar first embarked on his intellectual struggle, had again entered the picture.
As a result of their incitement and misinformation, on 12 November, 1999, police raided the homes and workplaces of members of the Science Research Foundation. In an operation conducted against 50 homes at around 03:00 in the morning they found no evidence of criminal activity, and observed no immoral activity. Nonetheless, day after day, the press ran unbelievable falsehoods and mutually contradictory slanders. Adnan Oktar and a number of members of the BAV community were detained for 7 days at the Istanbul Anti-Organized Crime Department headquarters. Forensic medicine reports established that they were subjected to severe torture during their time in detention. Legal proceedings were subsequently brought at Istanbul High Criminal Court of 2nd Instance No. 7 against those officials involved in the torture of the BAV community members. These individuals are still on trial and facing prison sentences of 216 years each.
The people detained over that period, during which they were subjected to countless illegal practices, were forced to sign so-called statements that they had not even been allowed to read, under severe torture and duress. An indictment was later drawn up on the basis of the imputations in these statements, which were of no legal worth under Turkish law. Adnan Oktar was held for 9 months in prison, again on the basis of these Security Department statements.
Over the 8-year judicial process, not one single piece of evidence, document, report or witness statement was obtained to support the accusations in the indictment against Mr. Oktar and the other defendants. On the contrary, dozens of expert reports, many witness statements, reports by authorized official bodies and legal opinions submitted by academic jurists all proved Mr. Oktar's innocence. Indeed, the Public Prosecutor requested that Adnan Oktar and all the other defendants be acquitted, by declaring that no evidence had been obtained against the defendants, that all they had were the Security Department statements, which were legally invalid according to the Turkish law, he said, because they had been signed under duress, in the absence of a lawyer and without having been read, and that the court had already acquitted those concerned of the same charges and tried under the same articles. Furthermore, the Prosecutor reiterated this legal opinion and requested the acquittal of Mr. Oktar and the other defendants for a second time.
Mr. Oktar respects all the decisions reached by the Turkish justice system, however. He acts in the knowledge that Allah creates everything for the best and with great wisdom. He regards prison as the madrassa (school) of the Prophet Yusuf (as) and faces any ruling that may be issued against him with fortitude and patience. There is no doubt that Mr. Oktar has already been cleared of all these charges that have been raised in the eyes and consciences of the Turkish nation and of his millions of readers throughout the world. During all this time, he has always constituted a role model maintaining his trust in, and submission to, Allah, recalling that throughout history, believers have all been tested with similar incidents, that every event takes place in a destiny determined by Allah, in a wise and auspicious manner. No matter what may befall them, he always says that believers must always be moderate, joyfully determined, and submit to Allah's will. Mr. Oktar's excellent and elevated morality in this regard are instrumental in the love and respect felt for him increasing many times over.
During his intellectual struggle of the last 30 years or so, Mr. Oktar has always been forgiving and compassionate towards those who have conspired to blacken his name with irrational and illogical slanders. He acts in the light of the morality revealed by Allah in the verse "Repel the bad with something better" (Surah Fussilat, 34). All the plots against Adnan Oktar to date have been thwarted. By Allah's leave, the truth will emerge in this case, too, and Mr. Oktar's innocence will once again be established.
Even in all these circumstances, Mr. Oktar is still actively, eagerly and perseveringly engaged in his literary activities, calling on people to live by proper moral values.
---
11 NUMERATIVE INFORMATION ABOUT MR. ADNAN OKTAR'S WORKS
A9 Television
The daily rating of only internet viewers from Turkey is between 150 to 190 thousand.
Books
The works of Harun Yahya is a collection of 65,000 pages that include approximately 40,000 photographs.
This collection has been translated into 73 languages.
So far, 304 Turkish books have been purchased by 30 million people in Turkey. Yet another 30 million copies have been distributed free of charge.
So far, approximately 100 million Harun Yahya books in foreign languages have been published by many publishing houses in various countries of the world.
Harun Yahya's books are sold in bookstores in 100 countries.
Websites
More than 1000 websites in approximately 73 languages.
Each month, these websites are visited by more than 47 million people from 167 countries.
Each month, approximately 8 million documentary films, 5 million books, 800 thousand audio works, 10 thousand interactive files are downloaded by visitors. On the internet alone, 1 million people enter Harun Yahya websites daily.
Documentaries
305 Turkish, almost 1,200 documentary films in foreign language.
These documentaries are aired by more than 120 TV channels in 36 countries.
So far, 13 million VCD documentaries have been watched by audience in various countries.
In Turkey 150 local television channels broadcast documentries based on Harun Yahya works.
Conferences
The number of conferences held in many countries from Australia to Canada, England to Malaysia, including the most prominent universities of the world, is more than 5,000.
Radio Channels
The audio recordings based on Harun Yahya books are aired on many radio channels in 20 countries. In Turkey alone, 250 local radio stations regularly air audio recordings based on Harun Yahya books.
Articles
In 70 countries, more than 500 newspapers and journals publish articles. As of 2017, 127 newspapers, magazines and websites in 47 countries regularly publish Mr. Adnan Oktar's articles.
Journals
Scientific Search, Scientific Lens, and the Turkish Islamic Union magazines based on the works of Harun Yahya. The circulation of these three magazines reach 6 million.
12 THE IMPACT OF MR. ADNAN OKTAR'S WORKS
---
13 MR. ADNAN OKTAR'S ARTICLES FEATURED IN THE WORLD PRESS
Mr. Adnan Oktar's articles have to date been featured in more than 500 newspapers and magazines in more than 70 countries. As of 2017, Mr. Oktar's articles are currently featured regularly in 216 newspapers, magazines and websites in 47 countries. Among these are countries with quite different opinions, beliefs and systems such as Iran, Russia, Saudi Arabia, Malaysia, El Salvador, United States of America, Bahrain, United Arab Emirates and Qatar. By virtue of these articles, the sense of brotherhood between different faiths, religions and sects are consolidated, the flames of conflict sought to be incited are extinguished, and the demand for peace and love is being gradually spread to the whole world.
MR. ADNAN OKTAR'S ARTICLES BY COUNTRY
Afghanistan
South Africa
Albania
Argentine
Australia
Azerbaijan
Bahrain
Bangladesh
Belgium
Bosnia and Herzegovina
Canada
Cyprus
Egypt
El Salvador
France
India
Indonesia
Iran
Iraq
Israel
Italia
Jordan
Kuwait
Kyrgyzystan
Lebanon
Malaysia
Morocco
Myanmar
Nepal
Holland
Nigeria
Umman
Pakistan
Palestine
Qatar
Russia
Ruanda
Saudi Arabia
Slovenia
Spain
Taiwan
Tunusia
Ukrain
United Arab Emirates
England
United States of America
Yemen
| | |
| --- | --- |
| Newspaper/Magazine/Website | Country |
| Wadsam | Afghanistan |
| Cape Argus | South Africa |
| Cape Times | South Africa |
| Daily News - South Africa | South Africa |
| Sunday Tribune | South Africa |
| The Pretoria News | South Africa |
| The Star - South Africa | South Africa |
| The Sunday Independent | South Africa |
| Weekend Argus | South Africa |
| Albanian News | Albania |
| Iton Gadol | Argentine |
| Radio Jai | Argentine |
| Al Furat | Australia |
| Cresent Online | Australia |
| Arena TV | Azerbaijan |
| Baki Sesi | Azerbaijan |
| Fine TV | Azerbaijan |
| Hurriyet-az | Azerbaijan |
| News Baku | Azerbaijan |
| Parol.az | Azerbaijan |
| Seher Xeber | Azerbaijan |
| Xeber TV | Azerbaijan |
| Yeni Hikmet | Azerbaijan |
| Akhbar Al Khaleej | Bahrain |
| Gulf Daily News | Bahrain |
| News Today | Bangladesh |
| Weekly Blitz | Bangladesh |
| SasaPost | Belgium |
| Balkan Chronicle | Bosnia and Herzegovina |
| Cazin | Bosnia and Herzegovina |
| GDN Online | Bosnia and Herzegovina |
| The Bosnia Times | Bosnia and Herzegovina |
| Al Bilad (English) | Canada |
| Al Bilad (Arabic) | Canada |
| Global Research | Canada |
| Kıbrıs Postası | Cyprus |
| Al-Ahram | Egypt |
| Egyptian Streets | Egypt |
| Islam Online | Egypt |
| Revista Cultural Biblioteca Islámica | El Salvador |
| Alliance Dergisi | France |
| Caravan Daily | India |
| Indian Muslim Observer | India |
| Indian Newslink | India |
| Kashmir Reader | India |
| Kashmir Monitor | India |
| Muallim Magazine | India |
| Muslim Mirror | India |
| New Age Islam | India |
| Only Kashmir | India |
| The Hans India | India |
| The Jakarta Post | Indonesia |
| AhlulBayt News Agency | Iran |
| Al-Vefagh | Iran |
| Fars News Agency (FNA) | Iran |
| Hamshahri Newspaper | Iran |
| Iran Daily | Iran |
| Iraq Al-Youm | Iran |
| IRNA | Iran |
| Nokte Online | Iran |
| Shargh Daily | Iran |
| Tehran Times | Iran |
| Almada Newspaper | Iraq |
| Az Zaman | Iraq |
| Alliance fr | Israel |
| Arutz Sheva (English) | Israel |
| Arutz Sheva (Hebrew) | Israel |
| Arutz Sheva (Rusça) | Israel |
| Channel 9 TV | Israel |
| Europe Israel | Israel |
| Hatzad Hasheni | Israel |
| Israel Magazine | Israel |
| Israel Today (German) | Israel |
| Israel Today (English) | Israel |
| Israel Today (Hebrew) | Israel |
| Jerusalem Online | Israel |
| Jerusalem Post | Israel |
| JSS News | Israel |
| Maariv | Israel |
| Times of Israel (Arabic) | Israel |
| Times of Israel (English) | Israel |
| Times of Israel (Persian) | Israel |
| Times of Israel (French) | Israel |
| Vesti | Israel |
| YNetNews | Israel |
| Il Talebano | Italia |
| Al Ghad | Jordan |
| Al Rai | Jordan |
| Albawaba News | Jordan |
| The Jordan Times | Jordan |
| Mena FN | Jordan |
| Al-Anba | Kuwait |
| Arab Times | Kuwait |
| Discover Islam | Kuwait |
| Kuwait Times | Kuwait |
| Top News | Kyrgyzystan |
| Al Inshaa | Lebanon |
| Al-Bayan | Lebanon |
| An-Nahar | Lebanon |
| The Daily Star | Lebanon |
| Rush Views | Lebanon |
| Bacalah Malaysia | Malaysia |
| Berita Harian | Malaysia |
| Bernama | Malaysia |
| E-Iktisad | Malaysia |
| Harakah Daily | Malaysia |
| Malaysia Today | Malaysia |
| Malaysian Digest | Malaysia |
| Malaysiakini | Malaysia |
| New Straits Times | Malaysia |
| NST | Malaysia |
| Rohingya Blogger | Malaysia |
| The Borneo Post | Malaysia |
| The Malay Mail Online | Malaysia |
| The Malaysian Insider | Malaysia |
| The Star | Malaysia |
| The Sun Daily | Malaysia |
| Aujourd'hui le Maroc | Morocco |
| Morocco World News | Morocco |
| ARNO | Myanmar |
| Burma Times | Myanmar |
| Nepal24Hours | Nepal |
| Mid East | Holland |
| Nederlands Dagblad (Netharlands Daily) | Holland |
| Nigerian Herald | Nigeria |
| Times of Oman | Umman |
| Daily Mail News | Pakistan |
| Daily Times | Pakistan |
| Diplomacy Pakistan | Pakistan |
| Hiba | Pakistan |
| Human Rights Post | Pakistan |
| Nation | Pakistan |
| National Herald Tribune | Pakistan |
| Pakistan Observer | Pakistan |
| Pakistan Shafaqna | Pakistan |
| Pique | Pakistan |
| The Frontier Post | Pakistan |
| The News | Pakistan |
| CSS Current Affairs | Pakistan |
| Tactical Talk | Pakistan |
| Al Hadath | Filistin |
| Al Raya | Qatar |
| Al Watan | Qatar |
| Gulf Times | Qatar |
| The Peninsula Qatar | Qatar |
| Geopolitica (İngilizce) | Russia |
| Geopolitica (Rusya) | Russia |
| Islam News | Russia |
| Islam (Rusça) | Russia |
| Katehon (Arapça) | Russia |
| Katehon (İngilizce) | Russia |
| Katehon (İspanyolca) | Russia |
| Katehon (Fransızca) | Russia |
| Katehon (İtalyanca) | Russia |
| Katehon (Rusça) | Russia |
| Katehon sr | Russia |
| Pravda (İngilizce) | Russia |
| Pravda (Rusça) | Russia |
| The Moscow Times | Russia |
| Word You | Russia |
| Vestnik Kavkaza | Russia |
| The East African | Ruanda |
| Al Bilad daily | Saudi Arabia |
| Arab News | Saudi Arabia |
| Gulf Eyes | Saudi Arabia |
| Makkah Newspaper | Saudi Arabia |
| Muslim Today | Saudi Arabia |
| Riyadh Vision | Saudi Arabia |
| Saudi Gazette | Saudi Arabia |
| The Temple | Saudi Arabia |
| The Straits Times | Slovenia |
| MBC Times (English) | Spain |
| MBC Times (Spanish) | Spain |
| MBC Times (French) | Spain |
| Red Islam | Spain |
| The China Post | Taiwan |
| Tunisian Monitor Online | Tunusia |
| Kyiv Post | Ukraine |
| Al Arabiya (English) | UAE |
| Al Arabiya (Persian) | UAE |
| Arabian Gazette | UAE |
| Gulf Today | UAE |
| Aalia | England |
| AEON | England |
| Al Araby | England |
| Al Quds Al Arabi | England |
| Huffington Post – (Arapça) | England |
| Islam Today | England |
| Middle East Monitor | England |
| The Arab Weekly | England |
| Truth Seeker | England |
| Urdu Times | England |
| Voixmag | England |
| Al Hikmat | USA |
| American Herald Tribune | USA |
| Arab Voice | USA |
| Christian Media Magazine | USA |
| Counter Punch | USA |
| Daily News Updates24 | USA |
| Ekurd Daily | USA |
| Eurasia Review | USA |
| Fair Observer | USA |
| Jefferson Corner | USA |
| Jewish Journal | USA |
| Msn News | USA |
| News Rescue | USA |
| Opinion Maker | USA |
| The Hill | USA |
| The Huffington Post | USA |
| The Muslim Times | USA |
| Your Middle East | USA |
| Al Sohof | Yemen |
| On Islam | Egypt |
| Utusan Borneo | Malaysia |
| Middle East Online | England |
| National Yemen | Yemen |
14 EXAMPLES OF MR. ADNAN OKTAR'S WORKS OF ART
In traditionalist, orthodox understanding of Islam, painting, sculpture, music and all other forms of arts are forbidden. However, in the Qur'an, God praises beauty and art, one of the most significant reflections of beauty. God describes in the verses of the Qur'an the palace of the Prophet Solomon (pbuh) in all its grandeur, adorned throughout with pools and sculptures. Seeing this striking beauty, those to whom the Prophet Solomon preached religion witnessed the outstanding quality of a true Muslim's life, thus inclined towards practicing the religious moral values in fascination of such a life. In line with this morality set out by God in the Qur'an, Mr. Oktar, too, utilizes quality, beauty, grace, good manners, science and arts in all aspects of preaching Islam. The high quality and artistry in Mr. Oktar's books are also a significant part of his personal life, particularly evident in his paintings. In this page, there are some examples of Mr. Oktar's works of art.
14.1 MR. ADNAN OKTAR'S OIL PAINTINGS - Click to enlarge images
14.2 MR. ADNAN OKTAR'S WATERCOLOR PAINTINGS - Click to enlarge images